Everywhere in Corsica
From Ajaccio, Calvi, Bastia and more cities with our network of e-bike stations in Corsica
Best available rate
Get the best rate available for your electric bike rental in Corsica
Free cancellation
Change or cancel your booking for free whenever you want until 3 days before the departure
Drop-off in another town
You can drop-off your e-bikes in another city. Extra available on request.
Explore Porticcio by electric bike
Endowed with natural sites, the commune of Porticcio and the southern shore of Ajaccio are renowned for their sumptuous white sandy beaches. Explore these wonders in a practical and ecological way with the AppeBike electric bikes and fly over the traffic jams at the exit of the beaches.
Our electric bikes allow you to move faster and more serenely on Porticcio and the south shore of the Gulf of Ajaccio.
What to do in Porticcio ?
From the Viva beach in the heart of Porticcio to the beaches of Isolella and Pietrosella further south, almost 20 km of coastline await you to offer you small, almost deserted coves, safe family beaches or lively and trendy beaches. These paradisiacal beaches are also completed by a rich historical heritage with the Genoese towers of Capitello, Isolella, the Penitentiary of Coti-Chjavari without forgetting the villages perched on the heights of Porticcio.
Like all seaside resorts, traffic and parking are not always easy. But this will no longer be a problem thanks to the AppeBike connected electric bikes! More practical than the car, faster than the bus, more fun than walking and more ecological than the motorcycle, the electric bike allows you to move and explore Porticcio and the south shore of the Gulf of Ajaccio in a very unusual way.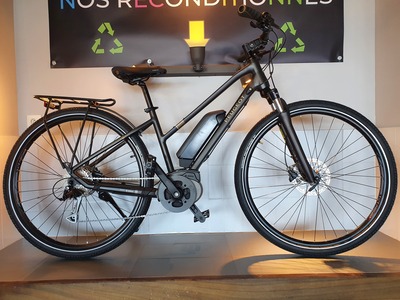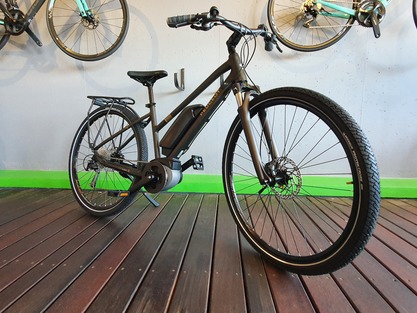 The AppeBike electric bike
Bosch Active Line Plus Engine
More Details
80 km battery life
Unisex bike
Rear luggage rack (on request)
Child seat can be clipped onto rear luggage rack (on request)
Adjustable aluminium stand
Electric bike rental in Porticcio
Our electric bikes are manufactured by the world leaders Peugeot and Bosch. Our partners allow us to offer top-of-the-range e-bikes combining comfort and performance, which makes it the fastest and greenest way to travel on short journeys but also on long distances.
These high-end bikes allow you to get the upper hand on Corsican roads without getting tired. Equipped with 80 kilometers battery life, these e-bikes allow you to move in urban environment but also on the small roads as well on the coast as in the mountains.
Not only will you avoid the traffic jams in Porticcio when you leave the beaches, but you will also reduce your carbon footprint and be physically active throughout your holiday! AppeBike offers you to rent an electric bike for your holidays in Porticcio for a day or a week. For even more simplicity, our team will deliver your electric bikes with chargers and accessory kit to your home!
Rates for electric bike rental per day and per week :
2 hours : 20€

4 hours : 35€

1 Day : 45€

2 Days : 70€

3 Days : 95€

4 Days : 120€

5 Days : 140€

6 Days : 155€

7 Days: 170€

20€ per additional days
Key to remove battery from bike
Ebike home delivery in Porticcio
Electric bike home delivery in Porticcio
The AppeBike Team delivers your electric bikes and accessories to your home, hotel or holiday rental in Ajaccio, Porticcio and the Ajaccio region.
50€
Rate for a home delivery from 1 to 4 bikes
Our Day experiences in Ajaccio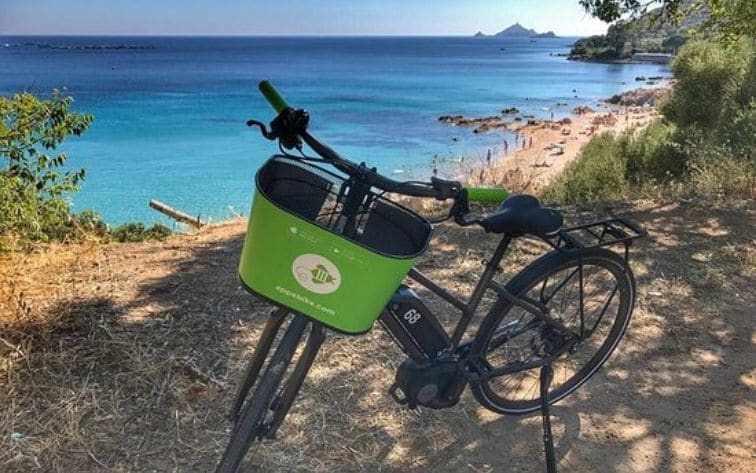 Ajaccio big Loop along turquoise waters
35€/pers
Departure everyday from the AppeBike Amirauté store
Accessible to babies and kids
Why to do it ?
Between heritage and diving in crystal clear waters, explore in 4 hours all the splendours of the Gulf of Ajaccio !
Departure possible everyday from 9am to 2pm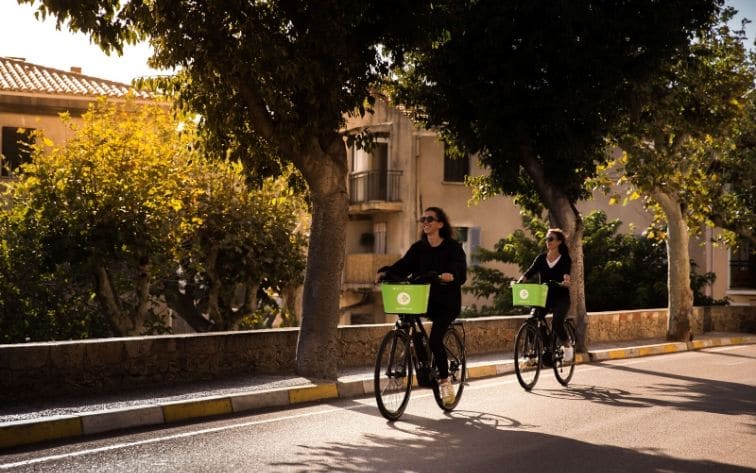 Ajaccio on Napoleon's Footsteps
45€/pers
Departure everyday from the AppeBike Amirauté store
Accessible to babies and kids
Why to do it ?
The historic experience on Napoleon footsteps on electric bike till the Sanguinaires islands with your entrance ticket to visit the Bonaparte House.
Departure everyday from 9am to 2pm from the AppeBike Amirauté store.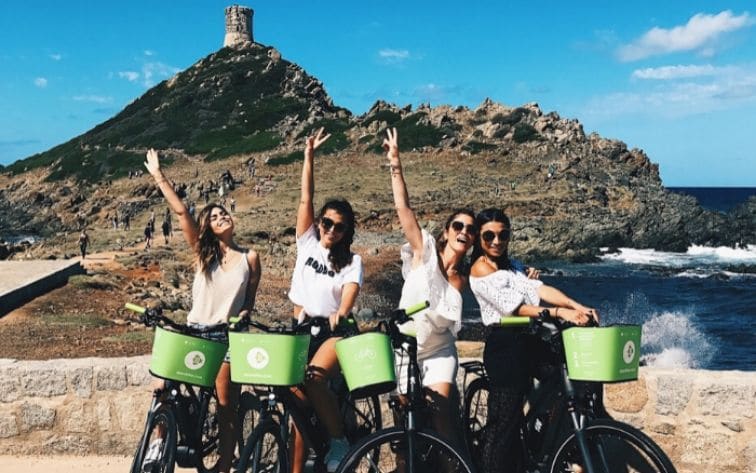 Guided tour to Sanguinaires islands
55€/pers
Departure : 10am on Saturdays from Hôtel Dolce Vita
Accessible from 16 years old
Why to do it ?
From Sanguinaires islands to the wild beaches of Capo di Feno, our super guide leads you to the natural protected sites of Ajaccio. 
Travelers satisfaction rate
"We've discovered a new way of travel"
Economic, green, and social, electric bike allows to explore roads which are impossible to explore with a classic bike. 
For the first time ever,, Stéphane and his wife made the choice to forgot the car and use e-bike to travel around Corsica. 
After 9 Days and 500 Km made between Ajaccio, Porto Vecchio, the St Georges path and Alta Rocca villages, in addition to "having lived magics moments" Stéphane reveals that he " has
discovered places he would never have discovered in a car"

Merveilleux circuit à vélo, service top !
Nous avons pris les vélos à Bastia et les avons rendus à Porto-Vecchio, c'est la seule agence à ma connaissance permettant un tel accommodement. Vraiment parfait, gentillesse, service, support… nous recommandons fortement!

Trip de l'Île Rousse à Ajaccio
Tout s'est bien passé; de la livraison à la restitution des vélos électriques car vous êtes une équipe réactive et dynamique, à l'écoute de sa clientèle. Nous avons loué les vélos électriques pendant 10 jours.

Tellement formidable qu'on les a acheté !
Les vélos électriques formidables tellement formidable que nous avons souhaité en acheter.
AppeBike propose à la vente des vélos reconditionnés. Nous ne pouvons que dire merci à Sébastien et toute son équipe pour l'accueil et le professionnalisme et bravo à Gregory pour nous avoir préparer des vélos au top.
L'année prochaine nous reviendrons en Corse sans nos vélos car nous savons que nous pourrons faire de bonnes balades grâce à AppeBike.
The GT20 on Electric bike from Ajaccio
A journey between crystal clear waters & snowy summits. From Ajaccio you will join the GT20 and its villages to Corte, before returning to the coast to discover Porto and the creeks of Piana listed as a UNESCO World Heritage Site.