Everywhere in Corsica
From Ajaccio, Calvi, Bastia and more cities with our network of e-bike stations in Corsica
Best available rate
Get the best rate available for your electric bike rental in Corsica
Free cancellation
Change or cancel your booking for free whenever you want until 3 days before the departure
Drop-off in another town
You can drop-off your e-bikes in another city. Extra available on request.
The GT20 : The great crossing of Corsica by electric bike !
The bike now has its GR20! With more than 600Km crossing the most beautiful landscapes of Corsica, between turquoise waters and snow-covered peaks, and a high point at nearly 1,500 meters, the GT20 is one of the most beautiful cycling routes in Europe… and also one of the most challenging.
Fortunately, the technology of the electric bicycle coupled with the network of Bosch charging stations along the route, make this Grande Traversée de Corse, with zero carbon emissions, accessible to everyone regardless of age and physical condition.
What's the GT20 itinerary ?
The GT20 crosses Corsica from north to south. The 600 km route starts from Bastia, in the north-east of Corsica, then crosses the Cap Corse to take you to the west coast of the island of beauty, to discover Balagne and its promontory villages. The GT20 then continues along the coast towards Galeria, the gulf of Porto and the creeks of Piana, listed as a UNESCO World Heritage Site. From Porto, the itinerary then takes you to the centre of Corsica by crossing the Spelunca Gorges, the Aitone forest and its natural pools before climbing the Pass of Verghju, the highest road pass in Corsica perched at an altitude of 1,478 metres.
From the Col de Verghju, the GT20 then takes you to Corte, the historic capital of independent Corsica and its Restonica valley and mountain lakes.
From Corte, you continue south through the passes and villages of the interior towards Venaco, Ghisoni, Zicavo then Zonza and its aiguilles de Bavella, before descending the Ospedale forest to end your adventure on the heavenly beaches of Porto-Vecchio and Bonifacio in the extreme south of Corsica.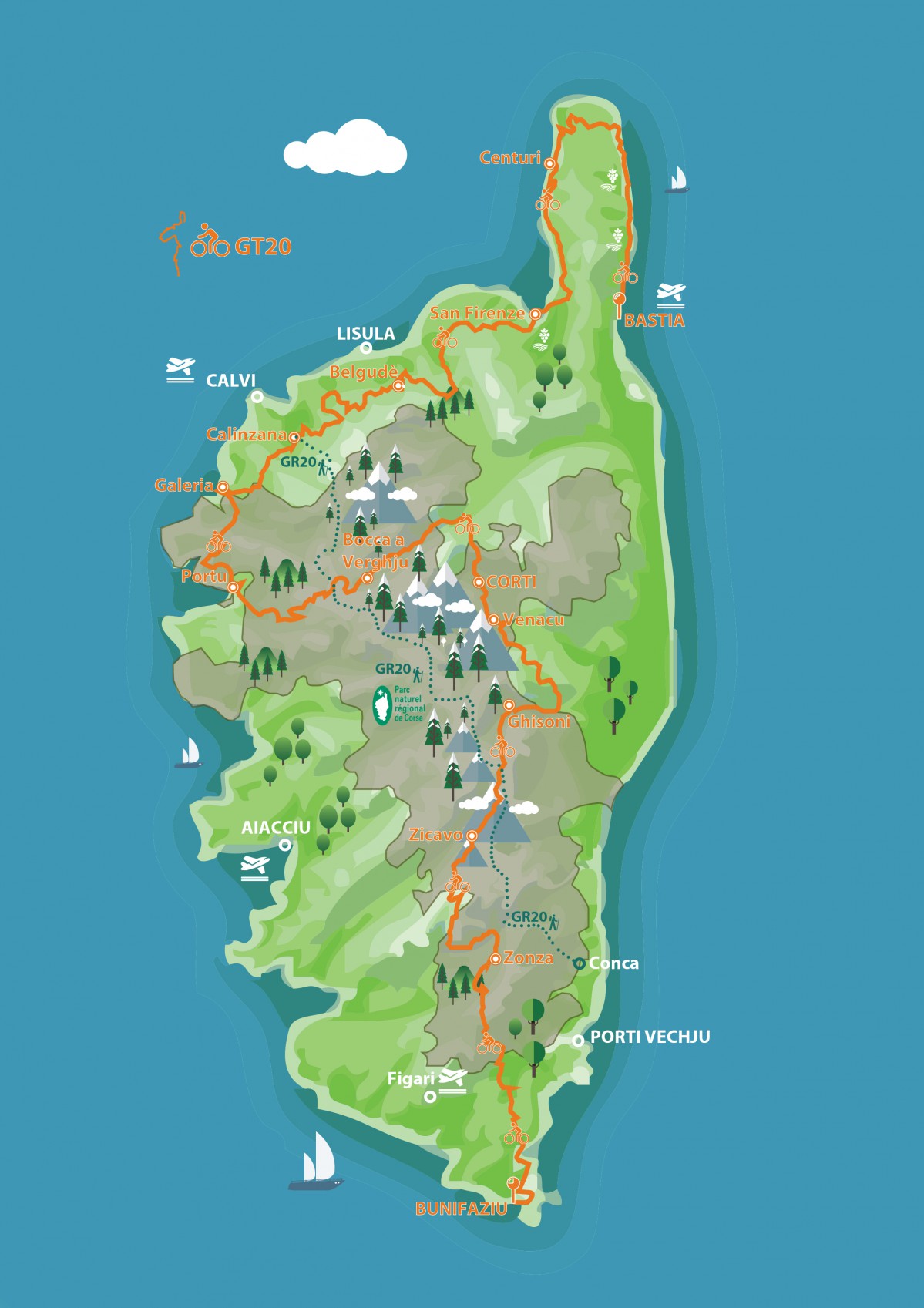 Is the GT20 difficult ?
Why is it said that the GT20 is the most challenging cycling route in Europe?
With 600Km of course, a peak at almost 1,500m, and 9,500 meters of difference in altitude, the GT20 seems at first sight addressed to seasoned cyclists.
On a classic bike, the course is reserved for seasoned cyclists with a good physical condition and high endurance are required to be able to pass the dozens of passes that make up the Corsican mountains. Agencies specialized in cycling tourism in Corsica offer to organize with you your GT20 road bike.
With an electric bicycle, the route becomes accessible to all on condition that you choose electric bikes with good power to climb the passes and a great autonomy. An effortless crossing of Corsica by bike… It's as if you could do the GR20 while flying!
The GT20 is therefore a very difficult cycling route that electric bike technology makes accessible to everyone. An atypical and unique itinerary where the majority of the route crosses the protected areas of the Corsican Regional Natural Park.
For hiking enthusiasts, the GT20 also offers many connections with the GR20.
Bosch eBike charging points
To ensure that you never run out of battery power on the road, AppeBike has partnered with Bosch to launch the world's first network of Bosch eBike indoor charging stations. A pilot project of charging stations for users of electric-assisted bicycles powered by Bosch.
Each PowerStation offers six secure key lockers to safely recharge your battery. The Power Stations are compatible with all Bosch batteries, such as PowerTube or PowerPack.
Remove your battery and recharge it free of charge in one of our new PowerStations. Always keep the key to remove your battery with you at all times!
The Bosch eBike Systems Standard Charger 4A will charge your battery while you enjoy lunch, an activity or just a break.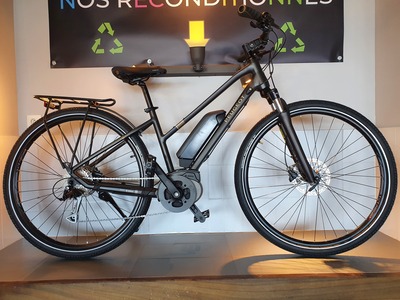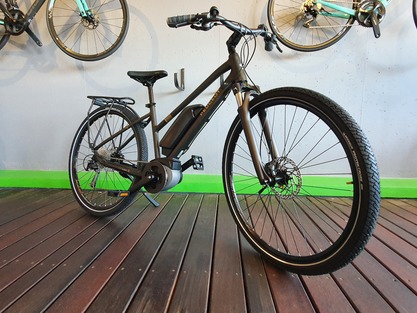 The AppeBike Electric bike
Bosch Active Line Plus Engine
More Details
80 km battery life
Unisex bike
Rear luggage rack (on request)
Child seat can be clipped onto rear luggage rack (on request)
Adjustable aluminium stand
Ride the GT20 on Electric bike
In 6 days, 8 days or 12 days, from Bastia or Ajaccio, AppeBike allows you to ride GT20 effortlessly. Go on a top-of-the-range electric bike combining comfort, power and endurance with a Bosch Active Line Plus engine that will give you the boost you need to fly over the steepest mountain passes, coupled with a 500Wh battery, the German manufacturer's battery offering the longest autonomy on the market. Leave serenely, equipped with your charger, on the long distances with the strong relief thanks to the average 120Km battery-life :
Electric bike made by Peugeot
Bosch Active Line engine with 400Wh battery
80 km average battery-life
Rates for electric bike rental per day and per week :
2 hours : 20€

4 hours : 35€

1 Day : 45€

2 Days : 70€

3 Days : 95€

4 Days : 120€

5 Days : 140€

6 Days : 155€

7 Days: 170€

20€ per additional days
Key to remove battery from bike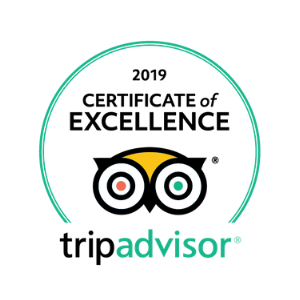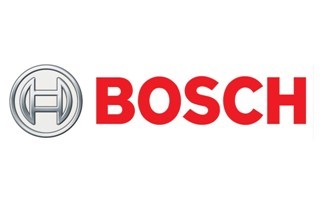 Travelers satisfaction rate
How many days to ride the GT20 ?
A journey between sea and snowy summits. From Ajaccio you'll join the GT20 and its inland villages before discovering Corte. Then you'll return to the Mediterranean coast to cycle around the gulf of Porto listed as a UNESCO World Heritage Site !
An 8-day bike trip on top-of-the-range electric bicycles ! Following the west coast of Corsica from Bastia to Ajaccio, this 8-stage tour perfectly combines the pleasure of effortless cycling with the pleasure of relaxing and enjoying your holidays! 
The GT20 from A to Z ! From Bastia to Porto-Vecchio by passing trhough Calvi, the natural protected site of Scandola and Corte through the pass of Verghju before passing via Venaco, Ghisoni, Zicavo and Zonza to reach Porto-Vecchio in the south.
"We've discovered a new way of travel"
Economic, green, and social, electric bike allows to explore roads which are impossible to explore with a classic bike. 
For the first time ever,, Stéphane and his wife made the choice to forgot the car and use e-bike to travel around Corsica. 
After 9 Days and 500 Km made between Ajaccio, Porto Vecchio, the St Georges path and Alta Rocca villages, in addition to "having lived magics moments" Stéphane reveals that he " has
discovered places he would never have discovered in a car"

Merveilleux circuit à vélo, service top !
Nous avons pris les vélos à Bastia et les avons rendus à Porto-Vecchio, c'est la seule agence à ma connaissance permettant un tel accommodement. Vraiment parfait, gentillesse, service, support… nous recommandons fortement!

Trip de l'Île Rousse à Ajaccio
Tout s'est bien passé; de la livraison à la restitution des vélos électriques car vous êtes une équipe réactive et dynamique, à l'écoute de sa clientèle. Nous avons loué les vélos électriques pendant 10 jours.

Tellement formidable qu'on les a acheté !
Les vélos électriques formidables tellement formidable que nous avons souhaité en acheter.
AppeBike propose à la vente des vélos reconditionnés. Nous ne pouvons que dire merci à Sébastien et toute son équipe pour l'accueil et le professionnalisme et bravo à Gregory pour nous avoir préparer des vélos au top.
L'année prochaine nous reviendrons en Corse sans nos vélos car nous savons que nous pourrons faire de bonnes balades grâce à AppeBike.